Regular price
Sale price
$39.99 USD
Unit price
per
Sale
Sold out
Unveil the enigmatic allure of the Lincoln Mill Haunted House with our Leather Wallet, bearing the haunting inscription in their iconic spooky font. Crafted with genuine cowhide leather, this wallet exudes both style and substance, making it a must-have accessory for those captivated by the mill's eerie legends.
Eerie Iconic Font: The wallet proudly displays the emblematic "Lincoln Mill Haunted House" in a spooky font, evoking the chilling mystique of the venue.
Genuine Cowhide Leather: Crafted from high-quality cowhide leather, this wallet not only boasts a distinctive appearance but also ensures durability and longevity.
Compact and Convenient: Measuring 3.5x4 inches when folded, the wallet strikes a perfect balance between compactness and ample storage space.
Secure Closure: The wallet features a secure closure mechanism to keep your essentials well-protected and organized within.
Everyday Versatility: Ideal for daily use, the wallet effortlessly accommodates your cards, cash, and more, offering a seamless blend of style and functionality.
Subtle Tribute: Carry a subtle tribute to the haunting history of the Lincoln Mill wherever you go, allowing the legends to become an integral part of your daily journey.
With the Leather Wallet adorned by the Lincoln Mill's iconic spooky font, you carry a piece of its haunting legacy close to your heart. Crafted with precision and care, this wallet is not only a statement of style but also a nod to the mysteries that reside within the mill's walls. Experience the captivating fusion of craftsmanship and the supernatural, all encapsulated within the confines of this exceptional wallet.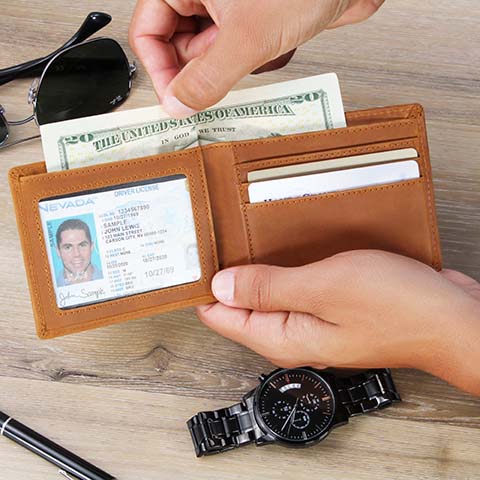 Product specifications: 
Genuine full grain cowhide leather (brown)

Slot for bills, credit cards, clear window for drivers license

4" x 3.5" (20.32cm x 8.89cm) folded / 8" x 3.5" (10.16cm x 8.89cm) flat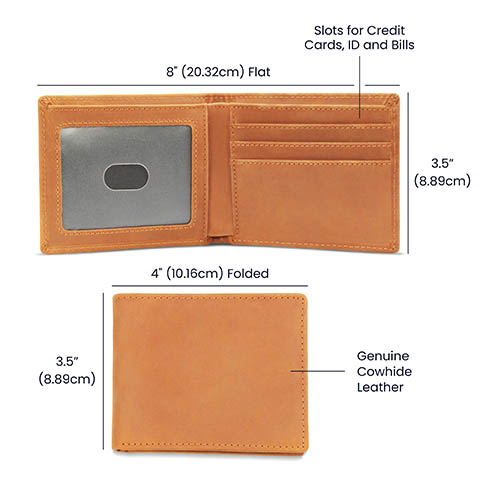 View full details